Peach & Dried Blueberry Scones + White Chocolate Glaze
For pretty much as long as we lived in Washington, I've been making baked goods for us to eat for quick breakfasts on the weekdays. With me going back to school, I'm sure we'll be relying even more heavily on easy smoothies and such. I'm really going to miss all the baked goods and will be so looking forward to when I am able to bake fresh treats for breakfast.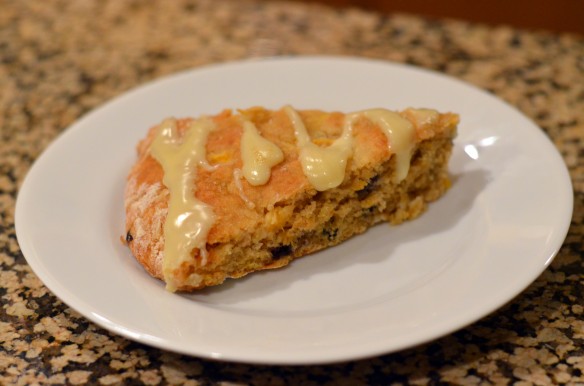 So for now I'm enjoying these peach and dried blueberry scones. I was originally going to make a peach thyme scone, but the thyme leaves looked a little too sad for consumption, so I pulled the leftover dried blueberries from the Momofuku cookies and subbed those instead. The overall texture of the scones was a little more muffin-like than I would have liked, but still a great way to start out the day!
Peach & Dried Blueberry Scones + White Chocolate Glaze Scones
yields 8-10 scones
Scones
2 1/4 cups all-purpose flour
½ cup sugar
2 teaspoons baking powder
¼ teaspoon salt
½ teaspoon cinnamon
6 tablespoons unsalted butter, cut into 1/4" pieces
2/3 cup buttermilk
1 large egg
1 teaspoon vanilla extract
3 peaches, peeled and chopped
¾ cup dried blueberries
turbinado sugar, for sprinkling on top
Preheat oven to 400º. Line baking sheet with parchment paper or silicone mat.
Combine together the flour, sugar, baking powder, salt, and cinnamon in a large bowl.
Using a pastry blender, cut the butter into the flour mixture until the mixture resembles coarse crumbs.
Add in buttermilk, egg, and vanilla extract. Mix until dough is formed.
Fold in peaches and dried blueberries.
Form into a flat disc on the baking sheet.
Sprinkle with turbinado sugar.
Bake for 25 minutes until golden brown.
Cool on pan thoroughly and then cut into individual scones and drizzle with glaze.
Glaze
2 teaspoons heavy cream
3 ounces white chocolate, melted
Drizzle glaze over cooled scones. Allow glaze to harden before serving.
Store in the fridge for up to 3 days, but tastes best when consumed on day of baking.