Spicy Coconut Mussels
I've been using a lot of coconut products lately, from shredded coconut in breading to coconut oil in cookies to coconut milk in risotto, and now coconut cream as the broth in which to steam mussels. I thought a rich coconut milk along with Asian flavors like spicy sriacha and ginger would be the perfect thing in which to steam a large batch of fresh mussels, but when I saw a can of coconut cream at Trader Joe's I knew in that instant that a luxurious coconut cream was indeed the way to go.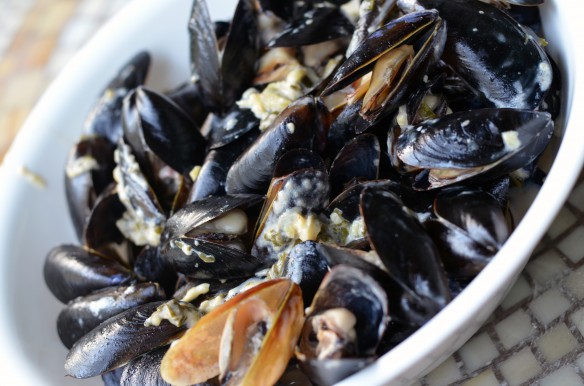 We've made mussels several times on Wafoodie, and I think these have been my favorite by far. The broth is thick and rich and tastes delicious soaked into a crusty baguette or a soft, buttery croissant (we tried both since Dustin and I have different preferences in bread texture). That, in fact, was my favorite part of the meal. The mussels were the side to the main attraction that was the broth!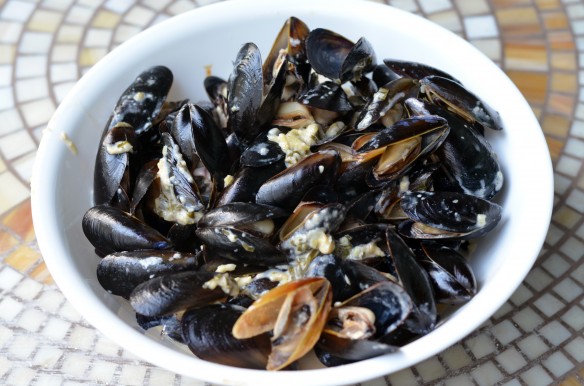 Spicy Coconut Mussels
serves 2
1 tablespoon sesame oil
2 cloves garlic, pressed
2 serrano peppers, seeded and finely diced
1  1" piece of fresh ginger, grated
1 can coconut cream
1 teaspoon sriacha sauce
1 small bunch scallions, chopped
splash of milk to thin out broth if desired
1 1/2 pounds mussels, scrubbed and debearded
1 medium baguette or 2 croissants
In a large, shallow pan with a lid, heat the sesame oil over medium heat.
Add in the garlic, serrano peppers, and ginger, then cook for 2-3 minutes.
Add in the coconut milk and sriacha and bring to a boil. Add milk if desired.
Reduce to simmer, add in scallions and mussels.
Cover with lid and steam for approximately 7 minutes or until the mussels have opened up.
Transfer mussels to a large bowl and pour broth over them.
Serve immediately with bread of choice.