Chocolate Mint Skillet Cookie Cake + Mascarpone Frosting
I am officially a baking supply packrat. During my last winter baking spree, I bought a bag of seasonal dark chocolate and mint chips and never used them. In fact I completely forgot about them. When cleaning out the cabinets for the move I stumbled upon the bag and knew I had to do something with them. I couldn't let a whole bag of special chocolate chips go to waste. So I adapted the M&M skillet cookie cake I made for Dustin's birthday party last year and came up with what basically tastes like thin mints crossed with the texture of a cookie cake. I also had some mascarpone cheese leftover from the truffle crab macaroni and cheese that I decided to incorporate into the frosting, replacing something like cream cheese for a little different vibe. I was very resourceful with this dessert and was completely able to whip this up at the last second!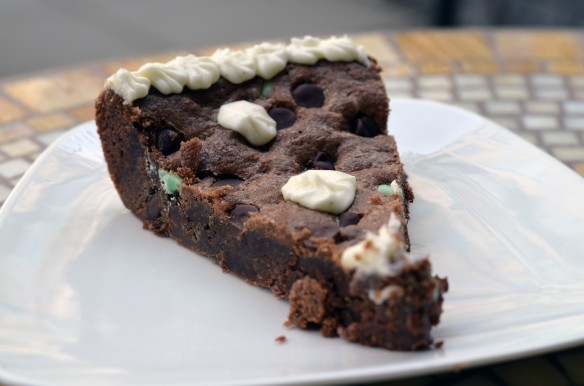 If at this point you are like "it's the summer...how am I supposed to get those chips when they are a holiday release?", I hear you. You can just use regular chocolate chips (you'll still get mint flavor from the peppermint extract which should be available year round) OR you could buy Andes mints and chop them up as a substitute, which I think would be pretty incredible— maybe even better!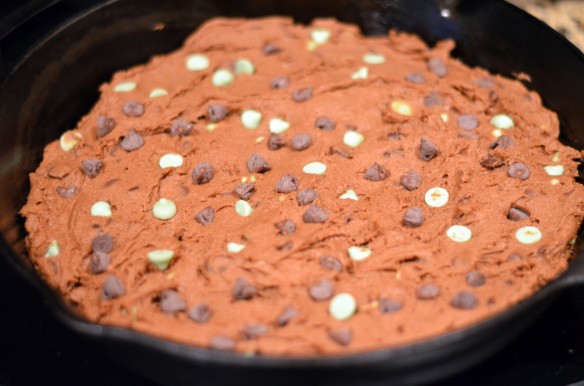 Just as with the previous skillet cookie cake, I am smitten. Cast iron skillets are amazing— for both savory and sweet.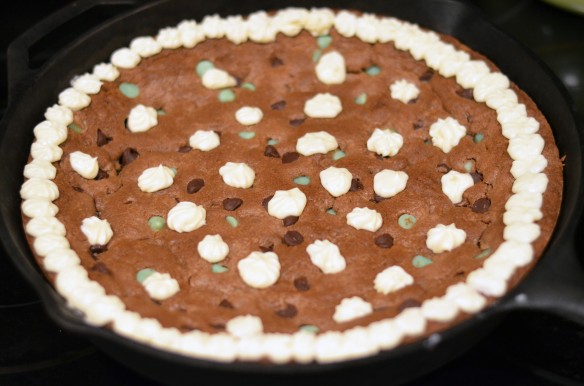 Chocolate Mint Skillet Cookie Cake
Cookie Cake
1 cup butter, softened
1 cup brown sugar, packed
1/2 cup granulated sugar
2 large eggs
2 teaspoons peppermint extract
2 1/4 cups all-purpose flour
1/4 cup unsweetened cocoa powder
1 teaspoon baking soda
1/2 teaspoon salt
1 10-ounce bag dark chocolate and mint chips (or other chocolate mint candies)
Preheat oven to 375°. Spray cast iron skillet with cooking spray.
In the bowl of a stand mixer, cream together the butter and brown sugar until light and fluffy.
Add in the eggs, one at a time, mixing in between.
Add in the peppermint extract and mix.
In a medium sized bowl, sift together the flour, cocoa powder, baking soda, and salt.
With the mixer on low, slowly add the dry mixture to the wet mixture until barely incorporated.
With a spatula, fold in the chips and distribute evenly.
Spread cookie dough evenly in skillet.
Bake for 25-27 minutes.
Allow to cool thoroughly before decorating. Serve directly from skillet.
Mascarpone Frosting
1/2 cup mascarpone cheese, room temperature
1/4 cup heavy cream
1/2 teaspoon vanilla extract
3/4 cup powdered sugar
With a hand mixer, whip the mascarpone and heavy cream until light and fluffy.
Add in the vanilla extract and mix.
Slowly add in the powdered sugar until desired frosting texture is reached.
Pipe on to cookie cake once completely cooled.
adapted from my M&M Skillet Cookie Cake; originally from Sweet Anna's