ink.
One of Dustin's friends and co-workers from Microsoft is originally from the LA area and was in town over the weekend for the Thanksgiving holiday. We spent Sunday evening with him and a few of his friends at ink. in West Hollywood (another from the top 101 of LA list).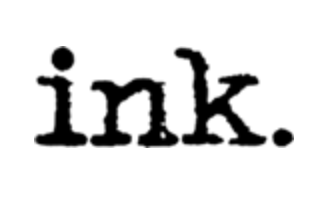 ink. is a gastropub with a really exciting menu where everything sounds like something you want to order. Fortunately, we were a group of 5, so we got to try a wide variety of dishes and sample all of them. I was pretty excited. Deciding what to order and what to skip was the hardest part of the meal.
Dustin and I each ordered one of their interesting cocktails. Mine was a white rum based drink with brown butter, banana, curaçao, and lime. I'm honestly not exactly sure how to describe this drink that I ordered pretty much solely because of the brown butter, but it was quite good. Not exactly what I was expecting from the drink, but definitely great. Dustin's drink was a mixture of islay scotch, ginger, and honey marked on the menu as a chef favorite. The peaty scotch paired well with the other flavors (I stole the candied ginger garnish...sorry), and Dustin enjoyed it enough to order a second round. Don't worry, he wasn't driving.
You are asked to order all of your food at once, so the chef can decide what dishes you ordered go together and send them out as a group. Each of our group picked two unique dishes to order (not including the fabulous dessert). Here is a quick highlight tour of our dinner:
charred avocado, dungeness crab, almond sponge, smoked oil
Not one of favorite dishes of the evening, we were a little underwhelmed by the blackened avocado with crab. The best part was definitely the almond sponge on top. It wasn't bad by any stretch of the imagination, but not a reorder.
hamachi, fresh wasabi, green apple, lime
The hamachi was a solid and simply prepared dish. We didn't sample very much to make the best judgment on flavor, but the quality of the fish was outstanding and the dish was declared a favorite of others in our party.
smoked trout, radish, pickles, sesame mustard
I got this description from the website, and I really feel like this might have been different on the menu Sunday night. I swear the dish had a tomato jam and it most definitely had plantain chips. It was one of the first dishes that came out and one of my early favorites of the evening.
beef tartare, hearts of palm, sea bean chimichurri, horseradish, rye
I honestly wasn't blown away by the beef tartare. It was good and maybe I was spoiled by the wonderful memory of tableside-prepared beef tartare at John Howie in Bellevue when we celebrated my acceptance into grad school, but the beef tartare wasn't my favorite.
corn, housemade doritos, nori, green onion
I'm going to be honest. I ordered this dish purely because I was intrigued by homemade Doritos. I also love corn, and if the Doritos had been paired with something less favorable, I probably would have skipped out. But it was corn and it all sounded crazy enough to be delicious. It was. Definitely one of my top dishes of the evening, the corn was creamy and ridiculously flavorful, such that the homemade Doritos became an afterthought (they were really awesome, too).
potato charcoal, housemade sour cream, black vinegar
We really didn't know what to expect from this dish, but what we got were small potatoes roasted until black and smoky in flavor. They were accompanied by a little spray bottle of black vinegar and a side of sour cream. My only complaint is there wasn't quite enough sour cream for all the potatoes, but other than that, all I can say is I wish I could eat these potatoes every day and learn how to make these at home myself!
egg yolk gnocchi, mushroom brown butter, hen of the woods
This was my other selection, as you might be able to guess from the buzz words gnocchi, mushroom, and brown butter (three of my favorite savory things). We've made egg yolk pasta, however this gnocchi was so awesome because each little gnocchi was filled with perfectly cooked egg yolk, an amazing brown butter sauce, and perfectly cooked mushrooms. Honestly, I could have eaten this dish, and this dish alone the whole night and been a very happy camper.
octopus, ink. shells, young fennel, pimento
Often octopus can get really rubbery, and it's usually not one of my favorite things, However, this octopus was crazy delicious and cooked to perfection. Actually my favorite part of the dish might have been the pasta shells with ink. Slightly salty and full of flavor, I definitely scooped a second helping of those. A fitting dish to order at a restaurant called ink.
lamb belly, braised lettuce, mushroom hay, yogurt curds
In this dish, described by Dustin as better than bacon, we got some juicy, fatty pieces of lamb bely accompanied by mushroom hay (I don't know how to describe it other than crunchy little sticks that added a nice, interesting texture to the dish). The yogurt curds reminded me of goat cheese, such that if you had told me it was goat cheese, I would have believed you (both in flavor and texture). This dish definitely inspired us to experiment with some new types of meat in our own kitchen in the near future.
heritage pork chop, onion caramel, lardo, frisee
This is perhaps my favorite pork chop I've ever tried, though admittedly I haven't had that many. It was nicely grilled and the onions were nicely caramelized and complementary in flavor. This was another dish, we didn't sample much, but if I could prepare pork chops to taste this good, I'd probably do it more often.
apple, caramel, shortbread, burnt wood semifreddo
To me, the dessert lover, this was the highlight and perfect way to end a meal. This dessert was basically a shortbread cookie with a caramel custard-like substance on top, along with small chunks of apple, a strudel-like crumb, and what I can only describe as caramel Jell-o (better than it sounds, I promise). To top it all off, there was a burnt wood semifreddo that you had to sort of crack over the top to release the inner, slightly melted ice cream-ish substance. It was difficult trying to get a little bit of all of the flavors into one (enormous) bite, and even more difficult trying to stop eating this indulgent and delicious dessert.
ink. is a real winner. We had great company and great food, and we wouldn't hesitate to go back again. A definite recommend if you are looking for dinner in the greater LA area!