Gingerbread Cookie Dough Bark
I've made some pretty spectacular tasting birthday cakes, most recently the Andes mint chocolate chip cake for D's birthday last month, and the Momofuku birthday cake will always be a contender for favorite cake. Normally I welcome any opportunity that gives me an excuse to bake a cake, even if it means making my own birthday dessert. However this year with my birthday arriving after the first day after finals, I was in no mood to bake an elaborate cake. Naturally, I still wanted to make something sweet to celebrate my birthday, but I wanted to put in minimal effort after a torturous statistics exam. Plus with us trying to get back on track eating healthier after all of the Thanksgiving desserts from the past month, I didn't want a whole cake sitting around for our consumption. Enter this gingerbread cookie dough bark, a unique twist on the traditional peppermint bark you see seemingly everywhere around this time of year.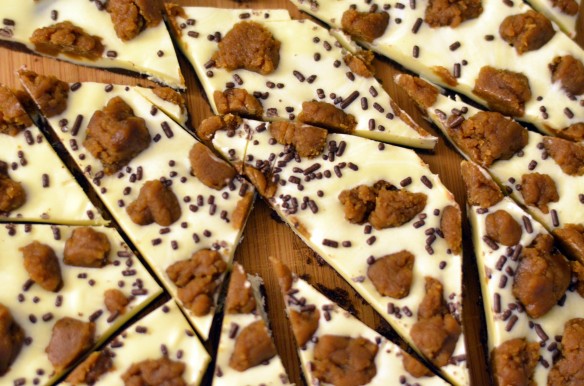 I've had this earmarked in my Cookie Dough Lover's Cookbook for a couple of holiday seasons, but it's gotten bumped each time. Last year I made myself cookie dough stuffed cupcakes, so I thought this bark would be a good continuation of the cookie dough for Erin's birthday theme as well as a seasonally appropriate treat.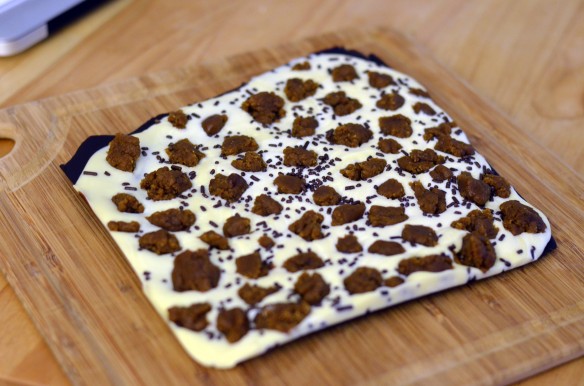 I made a few modifications since I didn't have any peppermints on hand, and I instead added peppermint extract to the melted white chocolate chips (they are from Trader Joe's and pretty good quality for the price, FYI). Since the only dark chocolate I had lying around was an unsweetened baking chocolate bar, I added in a little bit of sugar and some oil during the melting, and I ended up with the smoothest layer of hardened chocolate from any of my attempts at making homemade bark recipes, and I've made homemade peppermint bark dozens of times. Maybe it was because I used the baking chocolate bar instead of melted chocolate chips? I shall have to determine if this is the case next time I attempt bark.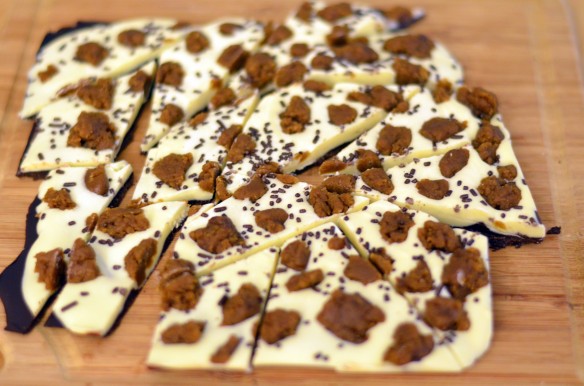 Gingerbread Cookie Dough Bark
yields 1 8"x8" pan
Gingerbread Cookie Dough
1 tablespoon coconut oil, room temperature
3 tablespoons molasses
1/4 cup brown sugar, packed
1 1/2 teaspoons ginger
1 teaspoon cinnamon
1/2 teaspoon allspice
1/2 teaspoon cloves
1/4 teaspoon salt
3/4 cup all-purpose flour
1-2 tablespoons milk (as needed)
Cream together the coconut oil, sugar, and molasses in a medium sized bowl.
In a small bowl, combine all of the spices with flour, and mix.
Slowly add the dry mixture to the wet mixture.
Add the milk 1 tablespoon at a time until the desired cookie dough texture is reached.
Pinch cookie dough into small balls.
*Note you may have some extra cookie dough beyond what you need for the bark, but since it has no eggs, it makes a great snack to munch on while you are making the rest of the recipe!
Bark
4 ounces semisweet chocolate, melted (I combined unsweetened chocolate with 1/3 cup granulated sugar and about 1 tablespoon of vegetable oil in my double boiler)
8 ounces white chocolate, melted
1 teaspoon peppermint extract
1 recipe of gingerbread cookie dough, pinched into pieces (see above)
sprinkles (optional)
crushed peppermint candies (optional)
Line an 8"x8" baking dish with parchment paper.
Pour the melted semisweet chocolate into the baking dish to form a smooth layer.
Let sit in the fridge for at least 15 minutes or until hardened.
Add the peppermint extract to the melted white chocolate, remove the baking dish from the fridge, and pour over the hardened semisweet chocolate to form a smooth layer.
Take the mini balls of cookie dough and press on top of the white chocolate.
Add sprinkles and crushed peppermint candies on top if desired.
Cover with foil and allow to sit in the fridge overnight to completely harden before breaking.
Store in the fridge to stay fresh.
Adapted from the Cookie Dough Lover's Cookbook