Mini Chocolate Peppermint Biscotti
I really enjoyed making the pumpkin biscotti back in October, so this holiday season I decided I would make biscotti again with a slightly different twist using the ever so popular holiday flavor combination of chocolate and peppermint.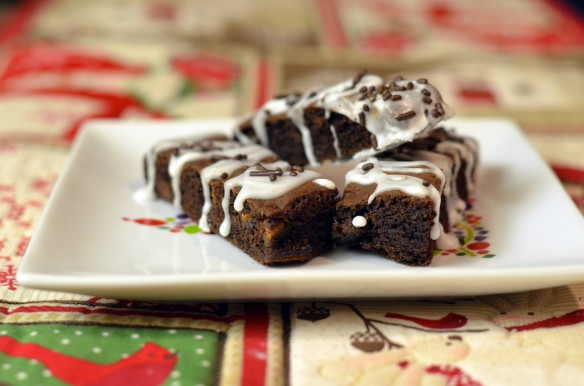 I intended to use these cute little Christmas tree sprinkles I have, but when I went looking through the cabinets for them I could not find them for the life of me. They seem to have disappeared in the move from Washington to California. Oh well, I decided to use the chocolate jimmies I pulled out yesterday to top the gingerbread cookie dough bark with instead. Can't go wrong adding more chocolate to chocolate.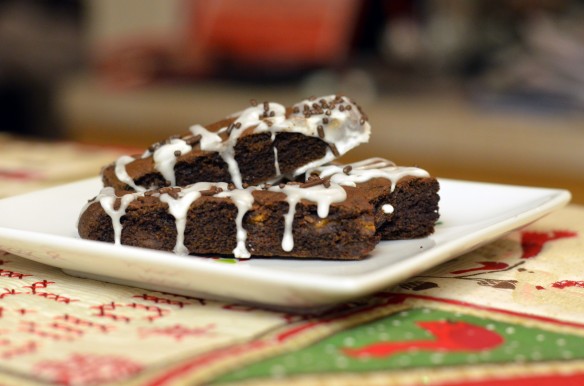 This time around I made the sure the biscotti got crispy, and these made the perfect treat to eat as my birthday breakfast before we headed off to Disneyland!
Mini Chocolate Peppermint Biscotti
Yields ~20 mini biscotti
Biscotti
1 cup all-purpose flour
1/4 cup unsweetened cocoa powder
1/2 teaspoon baking soda
1/4 teaspoon salt
1/2 cup granulated sugar
1/4 cup unsalted butter, room temperature
1 egg
1/2 teaspoon vanilla extract
1/2 teaspoon peppermint extract
1/2 cup (~20) Andes mints, roughly chopped
powdered sugar, for dusting
Preheat the oven to 350°. Line a baking sheet with silicone baking mat or parchment paper.
Sift together the flour, cocoa powder, baking soda, and salt in a small bowl.
Cream together the sugar and butter until smooth. Add in the egg, vanilla, and peppermint extracts, and beat until smooth.
Using a large wooden spoon, slowly add the dry mixture to the wet mixture until s stiff dough forms.
Fold in the chopped mints.
Dust a flat surface with powdered sugar and place the dough on the surface. Roll the dough out until it is approximately a 4"x10" rectangle
Use a knife to score the dough dividing it into 20 rectangles that are 2"x1".
Bake for 35 minutes.
Remove baking sheet from oven. Cool biscotti for 10 minutes before finishing slicing apart and spread them out on the baking sheet.
Bake for another 10 minutes.
Turn off the oven and crack the door, but the leave the biscotti in the oven to finish cooling. This step allows them harden up properly.
Allow to cool completely before drizzling with peppermint glaze (recipe below) and sprinkles.
Glaze
2-2 1/2 cups powdered sugar
1-2 tablespoons milk
½ teaspoon peppermint
sprinkles (optional)
Combine the sugar and milk together in a small bowl and stir until smooth, adding more powdered sugar or milk until desired consistency is reached.
Stir in the peppermint extract.