Sage Pesto Pasta
I guess it's sort of becoming a thing that when Dustin goes away for his business trips to San Antonio I subsist on some sort of pasta and pesto sauce. Given the success of the mint pea and pumpkin seed pestos, I'm always thinking of new and unique pesto flavors to try.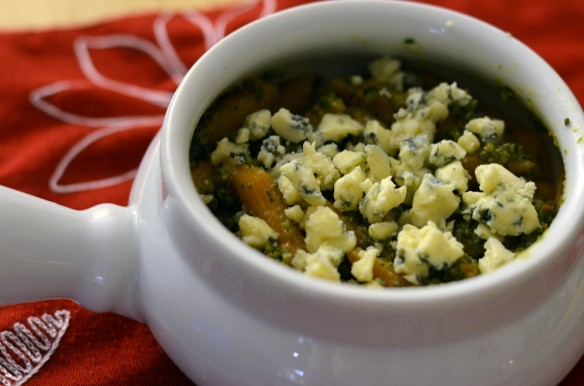 This time around I went for sage, and used pistachios and blue cheese, which seemed to be a natural pairing for the sage as well as good fall ingredients. I enjoyed this pesto quite a lot, but I still think that pumpkin seed pesto might be my favorite.
I served this pasta over fresh pumpkin penne bought from the farmer's market. It was good, but I still think Dustin and I make better tasting homemade pasta!
Even if you can't see it, I promise there is a beautiful green pesto beneath all of those blue cheese crumbles!
Sage Pesto
1 cup sage leaves
1 cup Italian flat leaf parsley
2 cloves garlic
1/3 cup shelled pistachios
1/3 cup mild blue cheese crumbles
1/2 cup olive oil
salt, to taste
pepper, to taste
Combine all ingredients together in a food processor and pulse until smooth.
Serve over fresh pasta or as a unique and delicious sandwich spread.