Mint Pea Pesto Gnocchi
Dustin has previously shown you what he eats as a bachelor when I'm out of town. I figured it was my turn to show you what I've been eating while he was out of town (which will be happening significantly more with his new job). Contrary to what it might seem on here, I do actually eat real meals when he is gone (even if what I really want to eat is ice cream all of the time). Normally what I eat alone isn't too exciting. I try to save the more fun stuff for us to enjoy together, but I had to share this pesto because it really blew my taste buds away!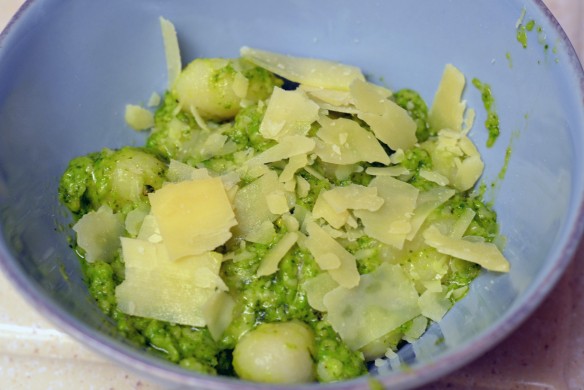 I eat a lot of gnocchi when I cook for myself. I prefer the doughy texture over standard pasta, plus it cooks so quickly, you can throw together a meal in no time at all. If you are really lazy, you can throw marinara sauce and parmesan on top and call it a meal. Or you can take it one step further and make your own simple sauce. Pesto is a favorite around here, but I wanted something a little more exciting than basil pesto, and herein came the mint pea pesto. I had peas leftover from the tuna casseroles I made when Dustin was away last time. After a little research I found peas and mint are a good combination, so I made them the base of my pesto. I added olive oil, parmesan, garlic, lemon juice, garlic, salt, and pepper to taste, and I was good to go. I started with about 1/2 cup of olive oil and added a little more as I went along until it made my taste buds happy and the texture looked good. Then I tossed the pesto over warm gnocchi with extra parmesan— an excellent bachelorette dinner.
I had a little bit leftover for Dustin's lunch when he got back into town, and he agreed it was most excellent!
Mint Pea Pesto Gnocchi
serves 3
3/4 cup peas
1/2 cup mint leaves
1/2 cup olive oil, plus more to taste/desired
1/2 lemon, juiced
1/4 cup parmesan cheese, shredded, plus more for sprinkling
2 cloves garlic, crushed
salt, to taste
pepper, to taste
1 12-ounce package gnocchi
Bring large pot of water to a boil.
While water is boiling, combine all of the ingredients in the bowl of a food processor and process until smooth.
Cook the gnocchi according to package instructions.
Drain gnocchi and pour into bowls.
Toss gnocchi with pesto and sprinkle with parmesan.