Pink Velvet Bars with Cream Cheese Frosting
Happy Valentine's Day! We are spending this evening going back to our Valentine's pizza eating tradition this year after spending last year apart with me in New York for grad school interviews. We got into the spirit a little early this year when we had some friends over for dinner this week by serving these pink velvet bars (pink velvet because I didn't have enough food coloring to make them red). They are right in the middle of a blondie and brownie since they have some cocoa powder but aren't quite chocolately enough to be brownies.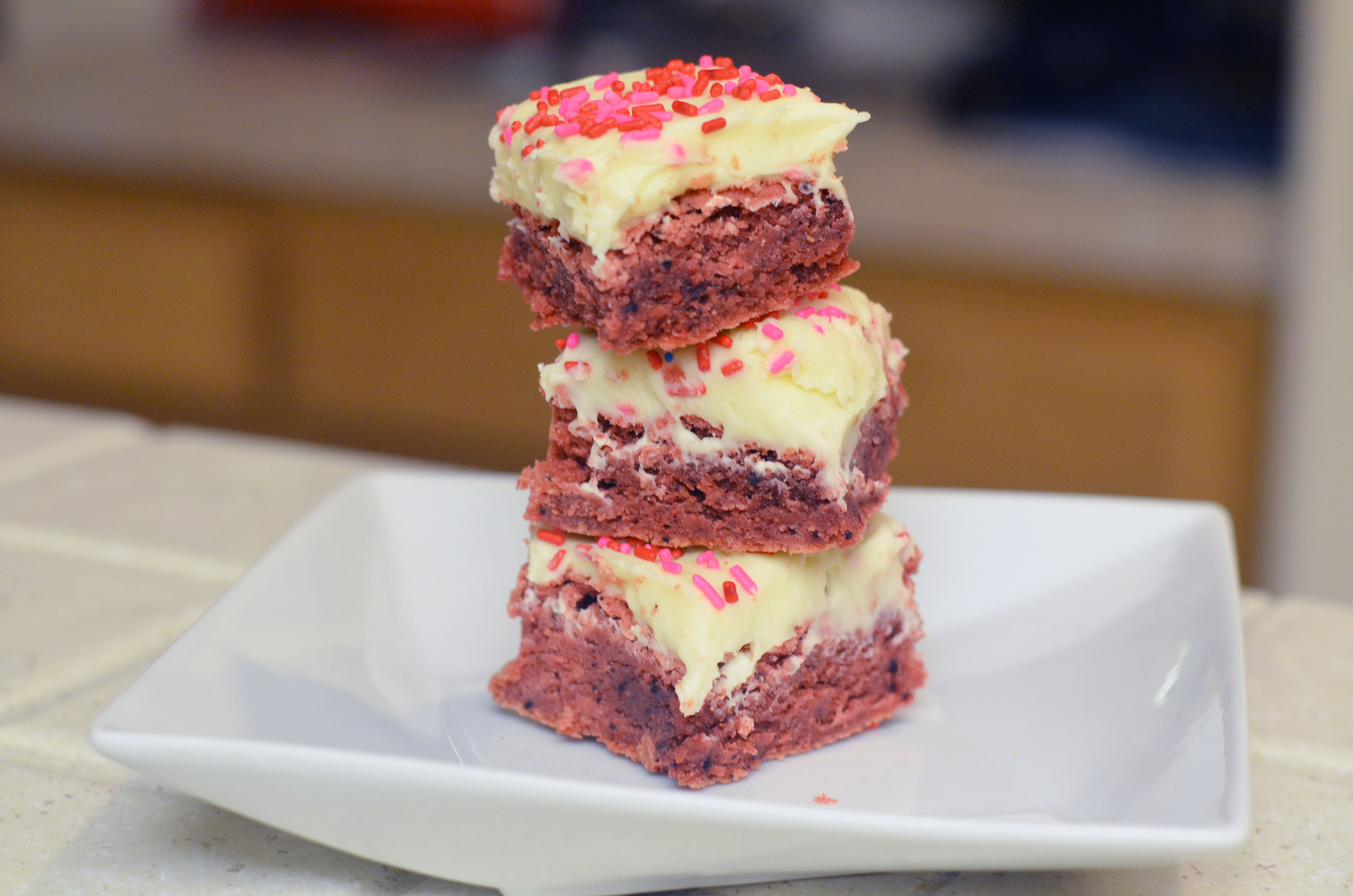 Topped with cream cheese frosting and festive sprinkles, these are a nice little treat for your Valentine!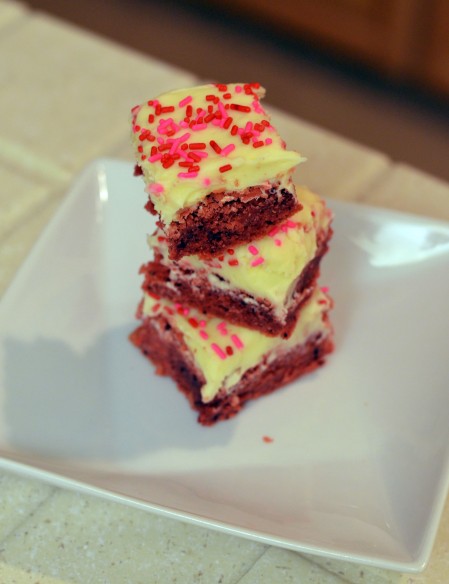 Pink Velvet Bars with Cream Cheese Frosting
Bars
1/4 cup unsweetened cocoa powder
1 tablespoon red food coloring
2 teaspoons vanilla extract
1/2 cup unsalted butter, softened
1 1/2 cups granulated sugar
2 large eggs
1  1/4 cup all-purpose flour
1/2 teaspoon salt
Preheat the oven to 350º. Line an 8"x8" with aluminum foil and spray with non-stick cooking spray.
In a small bowl sift the cocoa powder, then add the food coloring and the vanilla extract until a paste is formed.
In the bowl of a stand mixer, cream together the butter and sugar for several minutes until light and fluffy.
Add in the eggs, one at a time, mixing thoroughly after  the addition of each.
Mix in the flour and the salt, until barely combined. Do not over mix.
Bake in the oven for approximately 35 minutes.
Place the pan on a wire cooling rack and allow to cool completely before frosting.
Frosting
6 ounces cream cheese, softened
1/4 cup unsalted butter, softened
1 teaspoon vanilla extract
2 1/2 cups powdered sugar
1/8 teaspoon salt
sprinkles, for topping
Cream together the cream cheese and butter until smooth.
Add in the vanilla extract.
Slowly add in the powdered sugar and the salt until a frosting-like texture is reached.
Spread frosting on top of the cooled brownies and top with sprinkles before slicing.
Store in the refrigerator.