Gnocchi con Queso y Chorizo
We've tried making chile con queso at home before using a recipe from the Homesick Texan cookbook. It was good in flavor, but it lacked the texture and "meltyness" we've come to expect from the legit Tex-Mex queso of my homeland. Apparently the secret to that texture and "meltyness" is white American cheese in block form. We've known this for awhile and looked for it before at several different grocery stores when we lived in Washington with no such luck. I didn't have too much faith that we'd be able to locate it in California either, but Dustin was running into Ralph's (not our regular grocery store) for something quick while I sat in the car watching the pups, so I texted him on a whim to check the deli counter for white American cheese. To our surprise they had it, and Dustin bought a large brick of it. Now every time we go to Ralph's, it's tempting not to stop by the deli counter. We'll definitely be featuring white American queso dip at our next party.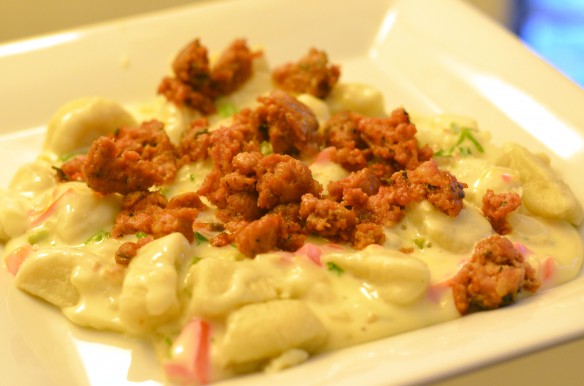 But as good as the queso was, it was just a part of this brilliant dinner idea that was all Dustin. He was like "what if we covered gnocchi with queso?" I was immediately sold, and the rest just flowed from there. We added some chorizo to give the dish some meatiness, but honestly just soft gnocchi pillows covered in delicious queso is enough to qualify this dish as one of the best meals ever. Major props to Dustin for this one!
Gnocchi con Queso y Chorizo
serves ~3
1/2 lb chorizo
1 tablespoon vegetable oil
1/2 white onion, chopped
1 jalapeño, seeded and stem removed, chopped
8 ounces white American cheese, shredded
1/4 cup whole milk
1 roma tomato, chopped
1/2 cup cilantro, chopped
3 cups gnocchi (homemade or store bought)
In a small pan, cook the chorizo then drain and set aside.
Bring a large pot of water to a boil.
Heat the oil a large sauce pan.
Saute the onion and jalapeño over medium-high heat.
Turn heat down to medium-low and slowly add in cheese and milk, stirring constantly.
Stir in tomatos and cilantro.
Cook the gnocchi for about 3 minutes in the boiling water. Drain and plate.
Top the gnocchi with queso and chorizo.
queso slightly adapted from Confections of a Foodie Bride