LA Cupcake Challenge: Magnolia Bakery vs. Georgetown Cupcakes
Neither of the bakeries that created these cupcakes is native to LA; however both East Coast-based cupcake shops have chosen this city to be one of their few expansion locations. Magnolia Bakery originated in New York and Georgetown Cupcakes originated in the D.C. area.
We perhaps haven't done the best job of buying cupcakes at both of the bakeries in the challenge to do the fairest comparison, so this time around, I made sure to ensure major differences wouldn't color our judgement.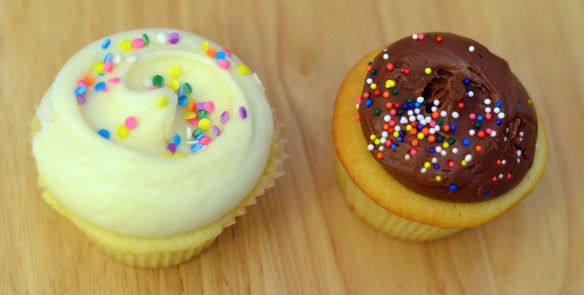 Magnolia Bakery
We've been to Magnolia once before for their delicious banana pudding, but this time we went for their famous classic vanilla cupcake with vanilla frosting. The Magnolia cake was light and reminded me a lot of Susie Cakes. The frosting was ridiculously sweet, and that's coming from someone with the biggest sweet tooth ever. You could almost taste crystals of sugar in the frosting when you would bite down which was a little weird.
Georgetown Cupcakes
At Georgetown, I ordered their milk chocolate birthday cake, a yellow cake with milk chocolate frosting. This cupcake really tasted like an upscale version of boxed yellow cake mix and frosting from a can. I wasn't a huge fan of this cake's texture, but the frosting was really rich and for that reason I kept going back.
The Verdict
Both cupcakes looked fun with their use of sprinkles, but we ended up choosing Georgetown Cupcakes. Though once again, we weren't overly blown away by either one. Definitely both cupcakes from our adventure down south to Orange County were better. So basically LA area > New York or Washington D.C when it comes to cupcakes!