Olive Oil Ice Cream
One of the first restaurants we tried out here in LA was Pizzeria Mozza where we stuffed our faces with rictotta-stuffed fried squash blossoms, pizza, pizza, and more pizza, and finally their butterscotch budino and a scoop of olive oil ice cream. As delicious as everything was, the olive oil ice cream was our favorite part, and I vowed to recreate it. Now, I can say that I have.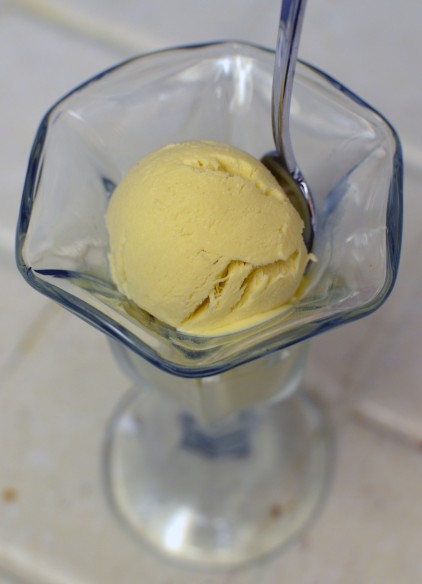 We decided to make our own fancy Italian dinner night at home with 3 courses— creamy burrata and proscuitto on grilled ciabatta for our appetizer, al dente squid ink pasta tossed in olive oil and pecorino for the main course, and finally olive oil ice cream for dessert.
You want to make sure you use a good olive oil (we used a fancier, but not too expensive one from Monsieur Marcel) that's on the lighter and fruitier side. This ice cream also takes longer to set in the freezer than most others I've made (perhaps something to do with the fat content...not sure), so we ate it as soft serve the first night. We topped the ice cream with some sea salt to give it a bit of pop, but after tasting this, I also think this ice cream would be ridiculously delicious with some salted caramel sauce.
Olive Oil Ice Cream
2 cups heavy cream, divided
1 cup whole milk
1/2 cup granulated sugar
1/4 cup honey
1 teaspoon salt
4 eeg yolks, lightly beaten
2/3 cup high quality olive oil
1 teaspoon vanilla extract
Place 1 cup of heavy cream in large bowl. Set aside.
Combine remaining heavy cream, milk, sugar, honey, and salt in a large saucepan over medium-high heat, but do not let boil.
In a medium-size bowl, whisk together the egg yolks.
Slowly add about half of the hot cream mixture to the eggs, whisking constantly, as to ensure the eggs do not curdle.
Add the egg mixture back to the saucepan and cook for several more minutes until thick enough to coat the back of a spoon.
Add the hot cream mixture to the cold cream, then stir in olive oil and vanilla extract.
Allow mixture to come to room temperature then cover and refrigerate.
Once thoroughly chilled, churn the ice cream according to manufacturer's instructions, transfer to a freezer safe container and freeze overnight (anything less and you'll probably have soft serve).