Spinach and Leek Croque Madames
While this definitely doesn't qualify as a healthy meal given the copious amounts of butter that are used, it did help us incorporate more veggies into our meal, which is one of current goals. Dustin is even willing to drink green smoothies in the morning!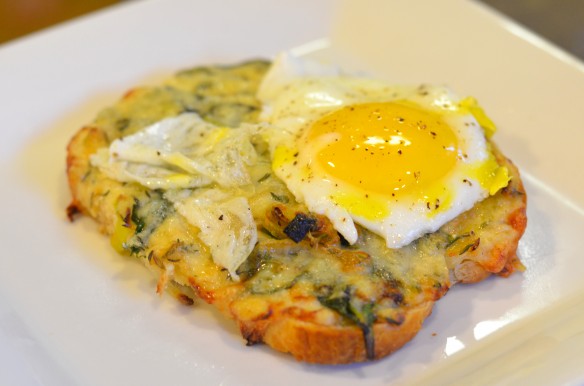 We love croque madames, but didn't expect this to be our favorite that we've ever had. I mean, it replaces the meat with veggies! But this recipe (with an added fried egg because fried eggs make everything taste better) from the newly purchased Huckleberry (a breakfast cafe and bakery out here in Santa Monica) cookbook, is outstanding. There is so much depth of flavor in each of the dish's different elements, and we really didn't have to put that much work into everything. The béchamel has a hint of heat from the jalapeño and there was a nice saltiness that permeated the different layers. We were blown away and definitely left wanting to try more from the Huckleberry cookbook (and Huckleberry itself since we've only picked up treats from their bakery....cookie tasted here).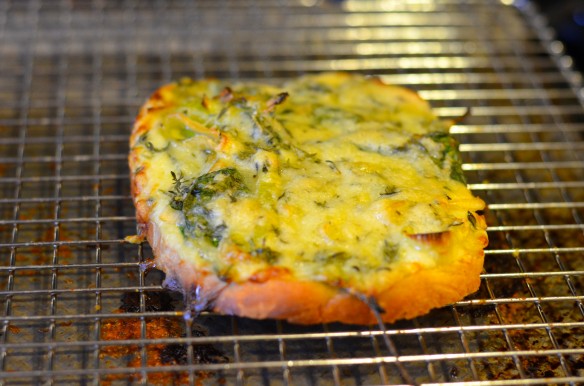 Spinach and Leek Croque Madames
yields 2 sandwiches (with leftover béchamel sauce)
Béchamel Sauce
4 tablespoons butter, unsalted
1/4 cup shallots, diced
1 jalapeño, diced
2 sprigs fresh thyme
1/4 cup flour
1 1/2 cups whole milk, room temperature
Place a strainer over a medium-sized bowl and set aside.
In a small pot over medium heat, melt the butter and cook the shallots, jalapeño, and thyme, and cook until the shallots are soft.
Stir in the flour and cook for about two minutes until a paste begins to form.
Slowly add in the milk and stir until thickened.
Keep on low hear, stirring occasionally until ready to use.
Strain the mixture into the bowl you have already set aside
Croque Madames
1 1/2 cups gruyere, grated
2 teaspoons fresh thyme
1 tablespoon butter
2 large leeks, white and light green parts only, sliced 1/4" thick
2 cups fresh spinach
2 slices good sourdough bread
1 batch béchamel sauce (see above)
salt
pepper
2 fried eggs
Preheat the oven to 450º.
Combine the grated gruyere with the fresh thyme in a small bowl and set aside.
In a large skillet, melt the butter over medium and cook the leeks for about 5-6 minutes.
Add in the spinach and toss until coated with the butter from the pan. Season with salt and pepper.
Place a wire rack on top of a baking sheet.
Place the bread on top of the wire rack, cover with approximately 1/2 cup of the béchamel sauce.
Place leek and spinach mixture on top of the béchamel and cover with gruyere/thyme mixture.
Bake in the oven for approximately 20 minutes until the cheese is melted and beginning to brown.
Remove from the oven and allow to cool for several minutes. In the meantime, fry up an egg to place on top.
recipe slightly adapted from the Huckleberry cookbook