Salted Caramel Apple Pie
Instead of a cake this year, I decided to make Dustin a pie for his birthday on Saturday. Sweet apples covered in homemade salted caramel sauce with Alderwood smoked sea salt in a homemade lattice pie crust. It was as delicious as it sounds! The apples stay slightly crisp in the pie, which I really enjoyed. The salted caramel sauce is an amazing complement to the apples! I spiced the pie up with cinnamon, nutmeg, and mace (mace is the secret ingredient to delicious Top Pot doughnuts and apple fritters, so it seemed a fitting addition), but any spices that remind you of fall in any amount really would be perfect in this pie!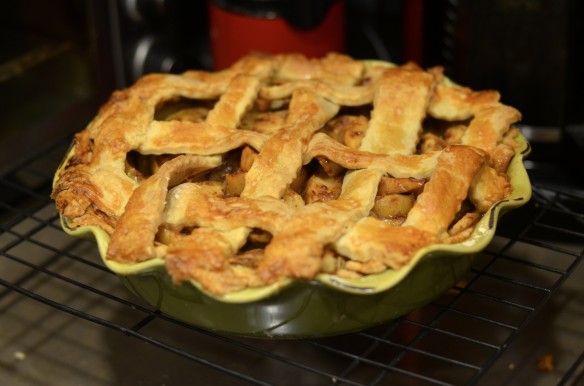 We spent Saturday with some friends celebrating at Disney's California Adventure. After a long day of fun, it was nice to have pie to come home to (especially because the food at Disney leaves a bit to be desired)! No worries about eating good food though, because Sunday we had a fantastic dinner at Bestia, one of the most popular restaurants in Los Angeles, that was to die for! All in all, I think Dustin had a pretty fabulous birthday weekend!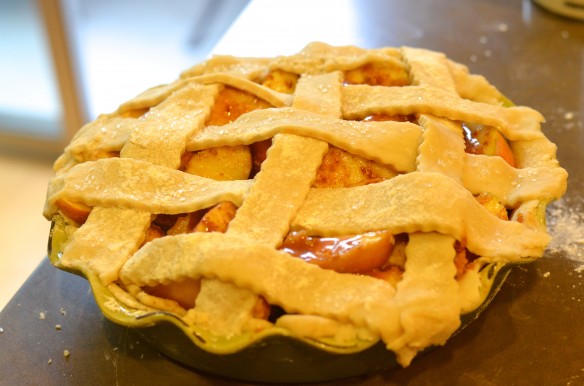 Salted Caramel Apple Pie
Pie Crust
3 cups all-purpose flour
1/2 teaspoon salt
2 tablespoons granulated sugar
12 tablespoons cold butter, cut into 1″ pieces
1/3 cup shortening
1/2 cup ice cold water
1 egg + 1 tablespoon water, mixed
Combine the flour, salt, and sugar together in the bowl of a food processor.
Pulse the mixture while adding the butter and shortening until the butter is cut into small pea-sized pieces.
Slowly add in the water while pulsing until a dough is formed.
Divide the dough into two balls and flatten out into two discs. Wrap in plastic wrap and refrigerate for at least an hour.
Make the filling and salted caramel sauce (see below).
Let dough soften about 10 minutes on the counter before rolling out. Preheat oven to 350º.
Roll out both pie crusts to fit into a 9" circle pan. Place one of the circles into the pan and cut the other into ~8 strips.
Pour the apple filling into the pie crust.
Once filling has been poured into crust, pour over the salted caramel sauce cover with crust strips, half vertically and half horizontally, pressing the edges of the strips and the edges of the pie together gently.
Brush pie with an egg wash then bake for approximately 50 minutes, covering with aluminum foil part way through if the crust begins to brown too much.
Allow to cool completely (~6 hours was good for us) before slicing and serving.
Store in the fridge. Tastes greats great the second day served cold as well!
Caramel Sauce
1 cup granulated sugar
1/4 cup water
4 tablespoons unsalted butter, cut into pieces
2/3 cup heavy cream
2 teaspoons sea salt (I used Alderwood smoked sea salt, but regular will do)
1 teaspoon vanilla extract
In a medium saucepan over medium-high heat, combine the sugar and water and until brought to a boil.
Cook the mixture, whisking or stirring constantly, until amber in color (about 10 minutes).
Remove from heat and add in the butter one piece at a time. Be careful as the carmel sauce may bubble up at this point because of the temperature difference.
Slowly pour the heavy cream into the mixture, mixing constantly. Once again, be careful with the hot caramel sauce.
Stir in the sea salt and vanilla exact.
Apple Filling
4 large sweet apples, sliced
1 lemon, juice and zest
1/4 cup granulated sugar
2 teaspoons cinnamon
1 teaspoon mace
1 teaspoon nutmeg
In a large bowl, toss the apples with the lemon juice and zest.
Sprinkle evenly with sugar and spices.