Blueberry Lavender Crumb Cake
Making a delicious crumb topping has never been a baking strength of mine, but I feel like I finally nailed it. This is my go-to crumb topping from now on.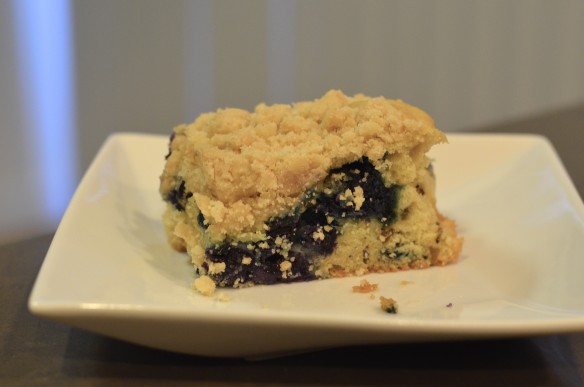 This cake is sweet enough to be a dessert, but could also be eaten for breakfast. We consumed it under both circumstances. I'm currently a bit obsessed with adding lavender to things (see here and here), and I really enjoyed combining it with fresh summer blueberries (any berry would do though).
Blueberry Lavender Crumb Cake
yields 1 8"x8" cake
Crumb
1/3 cup sugar
1/3 cup loosely packed brown sugar
1/4 teaspoon salt
8 tablespoons unsalted butter, melted
1 3/4 cups all-purpose flour
In a medium bowl, combine white sugar, brown sugar, and salt, mixing with your fingers until smooth.
Add melted butter and stir.
Stir in flour until crumbs form.
Cake
1 1/4 cups all-purpose flour
1/2 cup sugar
1/2 teaspoon baking soda
1/4 teaspoon salt
1 tablespoon dried lavender buds
6 tablespoons unsalted butter, softened
2 teaspoons vanilla extract
1/4 cup buttermilk
1 large egg + 1 large egg yolk
1 1/2 cups blueberries
2 tablespoons all-purpose flour
Preheat the oven to 325º. Line 8"x8" baking dish with parchment paper allowing 2" to hang over the sides and spray with non-stick cooking spray.
Combine the flour, sugar, baking soda, salt, and lavender in the bowl of an electric mixer. Mix on low speed until just combined.
Add the butter, 1 tablespoon at a time, beating each until it makes coarse crumbs in the dry ingredients.
Add in the vanilla extract, eggs and buttermilk. Beat the batter on medium speed for 1 to 2 minutes until smooth and fluffy.
Toss the blueberries in 2 tablespoons of flour.
Fold the blueberries into the cake batter.
Evenly spread the batter in the baking dish.
Evenly sprinkle crumbs on top.
Bake for 40-45 minutes until toothpick inserted into the center comes out cleanly.
Allow to cool in the pan for half an hour. Allow to cool completely before slicing.
recipe adapted from food.com