Bourbon Gorgonzola Burgers
We've been using bleu cheese pretty frequently. In addition to the macaroni and cheese from July 4th, I've been crumbling it on sandwiches and into my pasta at lunch. Plus, it's a frequent item on our "Trader Joe" nights. Basically "Trader Joe" nights are nights that we don't want to cook, so we stop at Trader Joe's (usually on the way home from the gym since we are too exhausted to cook) and buy all sorts of cheeses, crackers, dips, etc.— whatever strikes our fancy as we walk through the aisles. We don't get any thing that requires cooking, so we just go home, open packages, and eat. Trader Joe's hummus is always on the menu, and we always pick at least 2 different cheeses from Trader Joe's extensive collection of cheeses. I don't think I'll ever be able to sample each and every cheese in that store. That was a rambling tangent.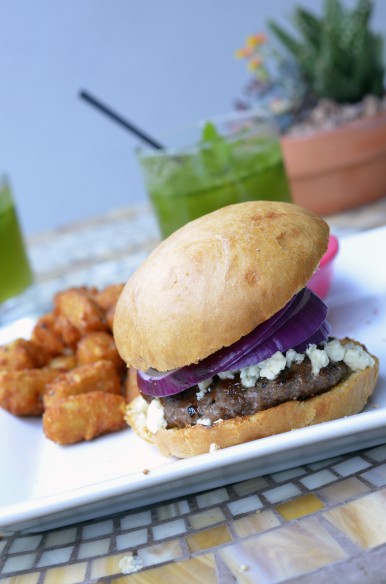 With all that bleu cheese around, I'd been craving it on a hamburger. I thought the Gorgonzola would pair really nicely with a Bourbon glaze. Much like our 2 AM burger, I believe this is also a burger at Rock Bottom Brewery (even though we never eat there, I know the menu pretty well because of our weekly trivia there), but I'm sure ours is tastier.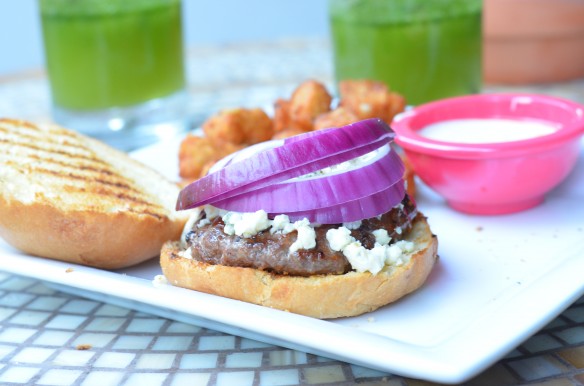 Serve with mojito slushies for greatest enjoyment!
Bourbon Gorgonzola Burgers
Burgers
serves 2
2/3 lb ground beef
salt
pepper
Bourbon glaze, divided (recipe below)
2 hamburger buns
1/2 cup Gorgonzola cheese
1/2 red onion, sliced
Heat up the grill.
Shape the ground beef into two patties. Use your thumb to make a well in the patty. Season with salt and pepper. Spread a little bit of bourbon glaze on each side of both patties.
Grill the burgers until desired internal temperature is reached.
Remove the burgers from the grill. Spread a thin layer of the bourbon glaze on the buns and toast them on the grill.
To assemble the burgers, place the patty on the bun, drizzle a little bit more glaze over the patty, and top with Gorgonzola and onion.
Bourbon Glaze
yields 1 cup
1 cup bourbon
1/2 cup brown sugar
1/2 cup ketchup
2 tablespoons Worcestershire sauce
1/2 lemon, juiced
1/4 cup apple cider vinegar
salt, to taste
pepper, to taste
Combine all ingredients in a small saucepan over medium heat, stirring constantly.
Allow the mixture to come to a simmer and thicken so it reduces in volume.
Remove from heat and add to those burgers!
from Macheesmo