Pumpkin Spice M&M Skillet Cookie
Happy Halloween!
I've already professed my love for skillet cookies before and how they bring such nostalgia for the early days of my relationship with Dustin. For an updated version, perfect for Halloween, I decided to infuse the cake with pumpkin and fall spices along with pumpkin spice M&Ms. I also wanted to frost it with a maple frosting, but I was rushing around so frantically that day that I didn't have the chance before we wanted to dive in and eat it. These are the little details in my cooking and baking that are starting to disappear as I get more and more sucked into graduate school life.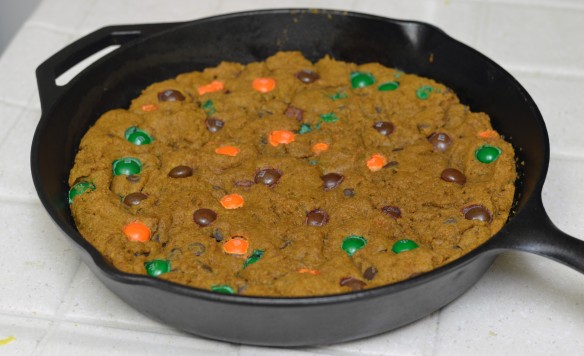 I baked this skillet cookie early in the morning before school to let it cool completely at room temperature to be eaten for dessert in the evening. However, I actually recommend refrigerating the skillet cookie and eating it cold because both Dustin and I thought it tasted better that way. It really got that dense cookie cake texture that you want after getting thoroughly cooled. I originally had been planning on nuking my slice in the microwave on day 2, but being me, I snuck a little nibble beforehand, and decided cold is definitely the way to go!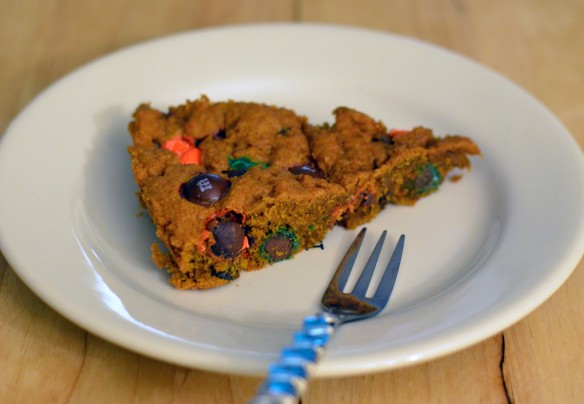 I used a hybrid version of this pumpkin chocolate chip recipe along with this older version of a skillet cookie to come up with this pumpkin-y delight, and was quite pleased with the results. Instead of (or in addition to) M&Ms, you could even thrown in chopped candy bars that you may have leftover after tonight!
Pumpkin Spice M&M Skillet Cookie
yields 16 slices
1 cup unsalted butter, softened
3/4 cup light brown sugar, packed
2 teaspoons vanilla extract
3/4 cup pumpkin puree
2 3/4 cup all-purpose flour
1 teaspoon baking soda
1/2 teaspoon salt
1 tablespoon cinnamon
1 tablespoon pumpkin pie spice
1 teaspoon nutmeg
1/2 teaspoon cloves
1/2 teaspoon allspice
1/2 cup chocolate chips
1 cup pumpkin spice M&Ms
Preheat oven to 375°. Spray large cast iron skillet with cooking spray.
In the bowl of a stand mixer, cream together the butter and brown sugar until light and fluffy.
Add in the vanilla extract and pumpkin puree and mix.
In a medium sized bowl, sift together the flour, baking soda, salt, and spices.
With the mixer on low, slowly add the dry mixture to the wet mixture until barely incorporated.
With a spatula, fold in the chocolate chips and M&Ms to distribute evenly.
Spread cookie dough evenly in skillet.
Bake for 22-24 minutes until toothpick inserted into the center comes out cleanly.
Allow to cool thoroughly before decorating. Serve directly from skillet.