Perfect (But Basic) Cheeseburgers with Crispy Onion Rings
Sometimes the classics are the best. Despite our desire to be super creative in the kitchen, sometimes you just want a simple, juicy cheeseburger. We want to make an elevated cheeseburger with high quality ingredients but nothing too wacky. We went with a basic beef patty, cheddar, onions, and tomato on a poppy seed bun. Nothing more, nothing less.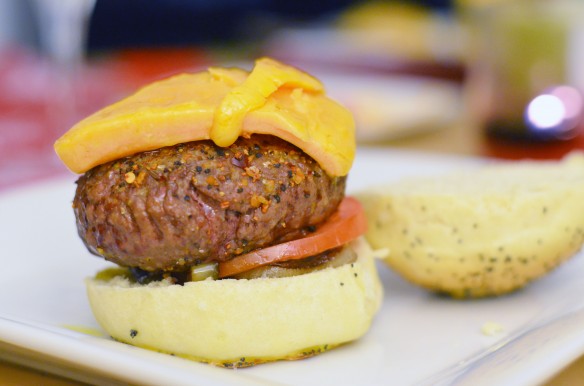 Usually we buy the cheapest ground beef (but let's face it, we shop at Whole Foods, so it's still not cheap or poor quality), but for this burger we bought the highest quality sitting in the case, and we made them into fat burgers like you'd find at a nice restaurant. The cheese is where we got a little fancy. Somewhere on a menu I read about a high-class burger that used 10-year aged Hook's cheddar cheese. I then saw this cheese at Whole Foods (and it was NOT cheap...meaning we didn't share with Bonnie and Bella like we normally do), but I figured we had to try it. It was pretty fantastic, full-bodied and rich that was enhanced even more when melted on top of a patty fresh off the grill. For the onions we just cooked slices with olive oil and balsamic vinegar until they were sweet and slimy (in the most perfect way, of course). Dustin's kind of an expert at homemade buns, so you know that's something we were going to incorporate into our perfect cheeseburgers. Everything from scratch— that was our motto.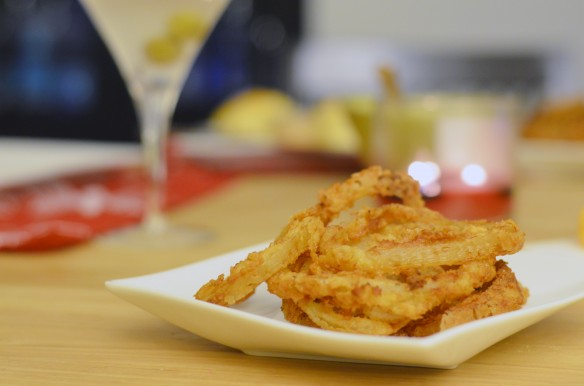 We've successfully tackled tater tots and french fries (maybe not as perfectly as we'd like, but successful nonetheless) at home. What's the next natural cheeseburger side dish? Onion rings, of course. We decided to soak our sweet onions in buttermilk (we'll definitely have to try beer battered soon though) spiced with a bit of cayenne pepper then breaded in flour and seasoned Panko breadcrumbs then deep fried to a crispy golden brown. I hate when  you bite into a onion ring that is too thick and you end up pulling a sad stringy onion out of a chunk of fried batter, so we went for light and crispy. Honestly they were some of the best onion rings we've ever had. Perfectly seasoned and salty with a little crunch. I personally devoured half of them which is a feat considering usually Dustin and I split things 1/3 for me 2/3 for him (particularly when it comes to fried food), and I did it before the burgers were even pulled off of the grill. Serve with animal-style sauce for something a little different than plain ketchup or mustard.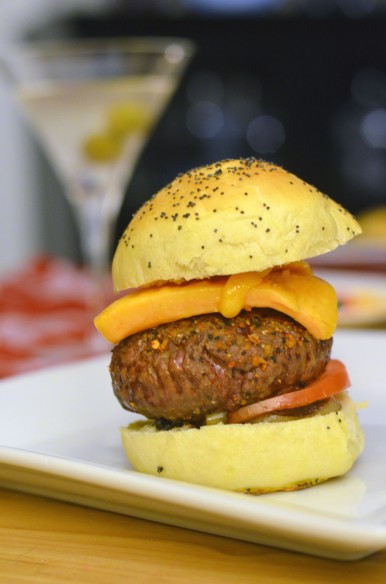 This meal is a little time intensive, but it was the perfect way to cap a wonderful weekend with our first weekend of perfectly warm Southern California spring weather. Cooking together always makes for a fun date night. Serve with martinis for an extra fun date night!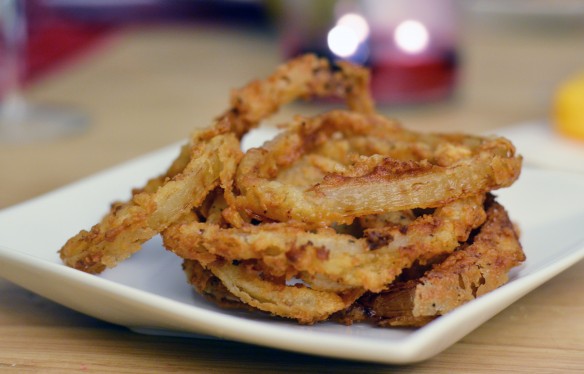 Funny, random story about these burgers. We cooked them to a pretty perfect medium-rare, but that means they were super juicy. These burgers were so tall that when I pressed down into the burger I shot juices from the burger all over myself, the wall, and the floor. We had to clean the mess up right away, which was a little annoying, but made for a good story. And Bella readily licked the wall clean for us!
Perfect Cheeseburgers with Crispy Onion Rings
serves 2
Cheeseburgers
1/2 medium sweet onion, sliced
olive oil
balsamic vinegar
3/4 lb high quality ground beef
steak seasoning
salt
pepper
1/4 lb cheddar cheese, sliced into two pieces
1 tomato, sliced
buns, toasted and split in half
Place the onions, olive oil, and balsamic vinegar in a small saucepan and cook as long as you can while you make the remaining food, stirring every now and then.
Form the ground beef into small, but thick, patties. Season liberally with steak seasoning, pepper, and salt.
Cook the burgers for approximately 3-4 minutes per side until medium rare, or desired internal temperature is reached. In the last minute of cooking, add on the cheese allowing it to melt a bit.
Place patty on bun along with tomato slices and cooked onions.
Onion Rings
1 1/2 cups buttermilk
1/2 cup + 1 1/2 cups all-purpose flour, divided
pinch of cayenne pepper
1 large sweet onion, sliced into 1/2" rings
1/2 cup Panko bread crumbs (we used a parmesan and basil version, so if you use plain you may want to spice it up)
salt
pepper
canola oil, for frying
Combine the buttermilk, 1/2 cup flour, and cayenne pepper in a bowl until smooth.
Place the sliced onions in the buttermilk mixture and let soak for up to 2 hours.
Bring the oil to a temperature of 375º in a high sided pot.
Mix together the remaining flour and the Panko breadcrumbs along with salt and pepper.
Shake off the excess buttermilk and dip in the flour mixture, thoroughly coating.
Place the coated onion rings into the oil and fry until both sides are golden brown.
Set on a wire rack, set on top of a baking sheet, to cool. Immediately add more salt.