Triple Cookie Stack Cake
I've professed my love for regular cookie cakes, but how much more exciting would a cookie stack be? Instead of making one large cookie, you make dozens of normal sized cookies and "glue" them together with icing. This was the big dessert I had planned out for our going away salmon bake party.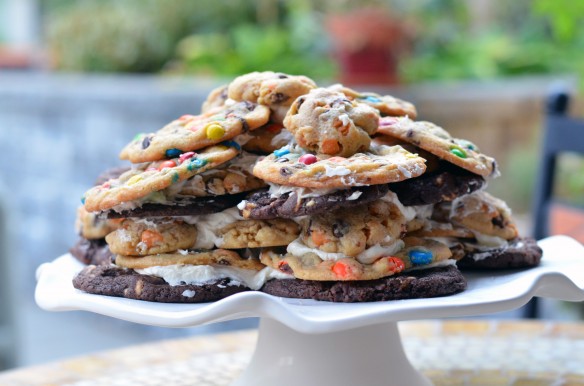 I completely love the idea for this cake, but learned a few things in the process of making it that would make it easier and more successful if made again in the future. Luckily I can pass on my tips!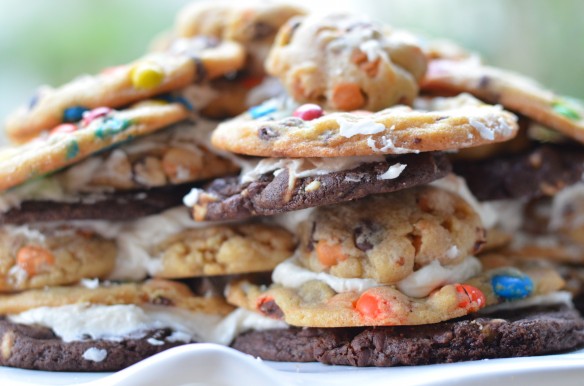 First, I'd recommend making all of the cookies the same size or else it won't look as pretty/have the wow factor I'd really hoped to have. If you decide to go all with one type of cookie (I honestly couldn't decide on one, which is why I went the triple cookie route) this will probably be easier, but my chocolate chip butterscotch chip pudding cookies didn't spread as much as the other two. I'd recommend being familiar with the cookie recipes instead of trying new ones, as I was doing.  Or if you wanted to make this super fast to make you could buy bakery cookies, but that's not nearly as much fun. And definitely use relatively large cookies. It will make things easier on your life.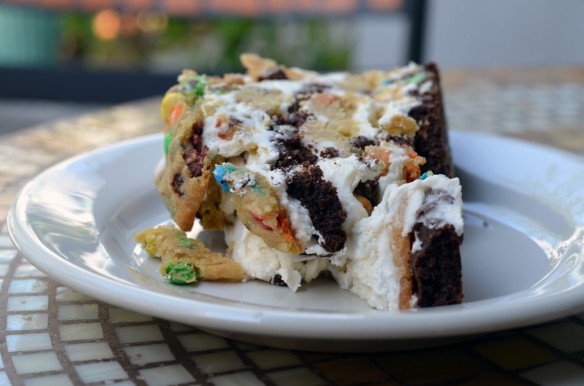 Second, I'd recommend piping the frosting on to the cookies. I used an offset spatula and almost immediately regretted my decision. Piping would have made things looks so much neater.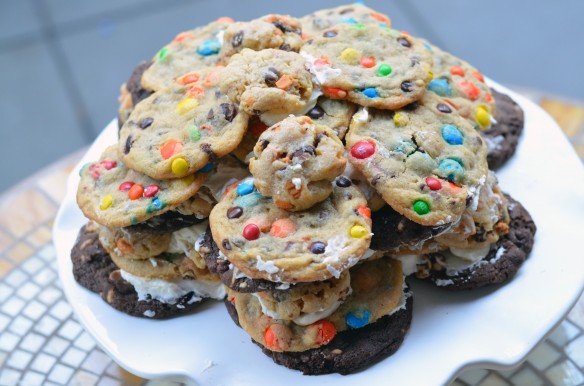 Thirdly, you definitely want to put the cake in the fridge for at least an hour or so, so that the icing hardens up and holds the cookies together. You can even make the cake a day in advance, wrapping it in plastic wrap and keeping it in the fridge. But make sure when serving, you wait awhile after removing the cake from the fridge to cut into it. We didn't wait long enough at the party, and it was kind of difficult to cut. The cookies also taste better when they aren't as cold, and the icing tastes better when it's slightly softened. Another tip for cutting the cake— make sure it's on a stable surface or have someone to hold the surface stable for you. I made the cake directly on my cake stand which wobbled when Dustin tried to cut the cake and made it super difficult/caused some breakage.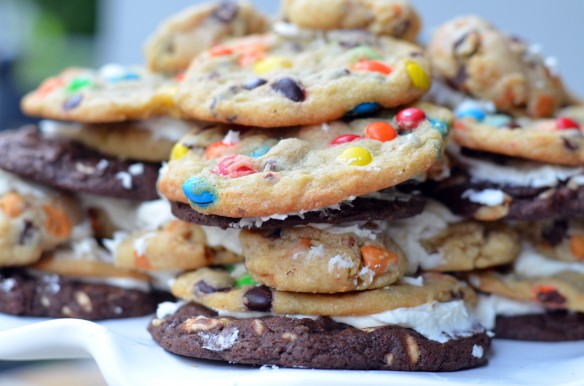 Finally, the frosting is pretty sweet, so you can cut back on the sugar in it (or up the amount of heavy cream) if you don't have a super sweet tooth. However do remember this is frosting, and it's supposed to be really sweet. When the frosting is paired with the cookies, I personally don't think it's too sweet, but hey, I admittedly have a insatiable sweet tooth.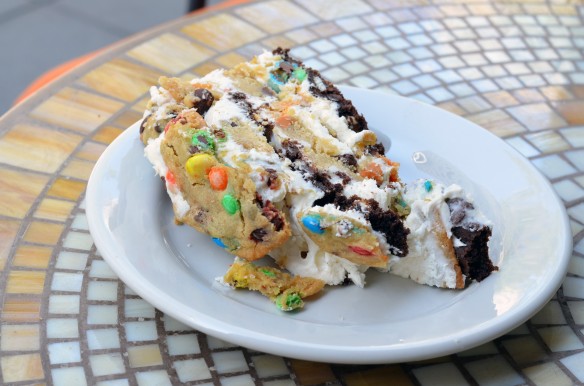 Don't take cookies from the top, but instead cut into it like cake for little slivers of the different kinds of cookies. Below are the instructions I was trying to follow myself, only somewhat successfully. But if you take note of my previous suggestions, I'm sure you'll end up with a gorgeous cookie stack cake! And if everything isn't working out exactly as you expected, don't worry. Just keep connecting cookies with icing and piling them on top of each other. It will still taste amazing!
Triple Cookie Stack Cake
Assembly Instructions
Arrange a layer of one type of cookie on a flat surface (like a cake stand). I started with a layer of 7 cookies. One center cookie surrounded by 6 more.
Add a layer of frosting to the tops of the cookies making sure there is at least a ribbon of frosting connecting each of the cookies (make a large, thick asterisks sign).
Add another layer of cookies (a different cookie if you are using a variety of flavors) followed by more icing until you have used all of the cookies and all of the frosting. Make sure to end with a cookie layer (I made sure it was M&Ms for a pop of color).
*If you make all three cookie types from scratch I recommend making the dough and leaving it in the fridge two days before you want to eat the cake, bake the cookies the day before, and assemble the cake once the cookies have completely cooled, either the evening before or the morning of your event. Also, each cookie recipe yields way more cookies than you need for this cake, so you can scale them back or plan for leftovers, which I'm sure would be appreciated by neighbors and friends. I sent my leftovers to our apartment complex office as a thank you for all of the staff's help and friendliness over the last 2 years. Apparently one of the maintenance men took 5 cookies at once!
Frosting
1 cup unsalted butter, softened
4 cups powdered sugar
2 tablespoons heavy cream
1 teaspoon vanilla extract
1/2 teaspoon almond extract
With a hand mixer, beat the butter on medium speed until fluffy.
Turn the mixer to low, then slowly add the powdered sugar.
Add in the heavy cream and vanilla extract. Adjust the texture of the frosting by adding more milk or sugar.